When it comes to makeup, eyeliners hold a special place in every beauty enthusiast's heart. Among the multitude of options available, Lancome eyeliners have managed to stand out due to their exceptional quality and diverse range.
In this article, we will delve into a comprehensive review of the top 5 Lancome eyeliners, highlighting their features, benefits, and suitability for various preferences and occasions. Whether you're aiming for a sultry smoky look or a precise cat-eye, Lancome has an eyeliner for you.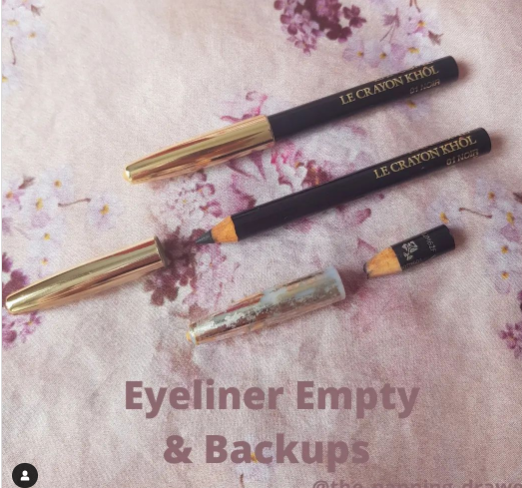 Image Source: Instagram @lancomeliner
Lancome Eyeliners – Artliner Precision Point Liquid Liner Reviews
The Lancome Artliner Precision Point Liquid Eyeliner is a favorite among makeup artists and beauty aficionados alike. Its unique foam tip applicator allows for effortless precision, delivering smooth and intense lines with minimal effort. The formula is quick-drying and long-lasting, making it perfect for all-day wear without smudging or fading. Whether you're a beginner or a pro, this eyeliner offers easy application and a stunning finish.
Lancome Artliner Precision Point Liquid Eyeliner Cost And Rating On Official Website
Artliner offers a felt-tipped liquid liner that excels in delivering precise and neat application. It is the perfect choice for creating stylish eyeliner wings and captivating cat-eye designs. This liner is designed for effortless use, ensuring a smudge-resistant outcome, and boasts a lavish pigmentation. The recent reformulation of Artliner introduces an expanded range of eight shades, encompassing both the existing favorites and three fresh hues. These shades encompass satin and metallic finishes.
Artliner stands out due to its innovative combination of dual film-forming polymers and deeply saturated pigments. This dynamic blend empowers Artliner to craft enduring lines that exhibit an impressive burst of vibrant color. The felt-tipped pen design guarantees unparalleled accuracy, positioning it as a premier option among liquid eyeliners, particularly for crafting eyeliner wings, captivating cat-eye expressions, or intricate cut-crease makeup looks.
Rating
Top Reviews


Lancome Artliner Eyeliner is suitable for all skin types and offers versatility in its application. It can be effortlessly used on bare eyelids or layered over any eyeshadow makeup look. To achieve various eyeliner styles, apply Artliner close to the lashes for a precise tight line, or gradually extend it outward to create a bold cat-eye or winged eyeliner effect.
Utilize your eyelashes as a reference point by gently pressing the side of the felt-tipped applicator onto the skin. For seamless results, employ the applicator's tip to fill in any gaps between the lashes, ensuring a flawless finish.
Lancome Eyeliners – Le Stylo Waterproof Long Lasting Liner Reviews
For those seeking a waterproof option, the Lancome Le Stylo Waterproof Long Lasting Eyeliner is a go-to choice. Its creamy texture glides on smoothly, allowing you to create both bold lines and subtle definition. This eyeliner is designed to withstand water and humidity, making it an excellent choice for hot summer days or emotional moments. The built-in smudger at the opposite end lets you effortlessly achieve smoky looks.
Lancome Le Stylo Waterproof Long Lasting Eyeliner Cost And Rating On Official Website

Crafted for effortless application along both the lash line and waterline, Le Stylo is a waterproof eyeliner pencil known for its creamy texture. This adaptable eye pencil effortlessly glides onto the lash line, imparting precise application and a richly pigmented color that remains steadfast without smudging or flaking.
The velvety consistency of Le Stylo permits smooth blending and smudging, enhanced by its integrated smudger. Following blending, the formula transforms into a long-lasting, waterproof coat that endures throughout the day and into the night. The lineup comprises 9 striking shades, featuring two impactful finishes: a velvety matte and a captivating metallic.
Rating
Top Reviews
Experience the excellence of a long-lasting, waterproof, and creamy formula with our eyeliner. To achieve precise eyeliner application, simply apply the eyeliner pencil directly onto the eyelid, hugging the lash line closely. This technique works seamlessly for both upper and lower lashes, whether you're aiming for a subtle, natural makeup appearance or a striking, bold look.
For a smudged effect, apply the eyeliner pencil directly onto the eyelid, maintaining proximity to the lash line. Our product comes complete with a smudging tool, which you can use to expertly blend and diffuse the product for a range of intensities, from subtle to impactful. Employ this method on both upper and lower lashes to achieve captivating medium-to-bold smokey eye designs and gradient makeup styles. This eyeliner also serves as an excellent eyeshadow base, adding to its versatility.
Want to find out more? Follow the links:
Mac Eyeliner Reviews | Analyzing The Customer's Perspectives
Clinique Eye Liner Reviews: Unveiling the Beauty in Precision
Lancome Eyeliners – Drama Liqui Pencil Extreme Longwear Reviews
If you're after the intensity of a pencil and the glide of liquid eyeliner, the Lancome Drama Liqui-Pencil Extreme Longwear Eyeliner is your solution. This hybrid eyeliner offers the ease of application of a pencil with the rich color payoff of a liquid. Its waterproof and smudge-resistant formula ensures that your makeup stays flawless throughout the day. From classic to daring looks, this eyeliner is versatile enough to handle them all.
Lancome Drama Liqui-Pencil Extreme Longwear Eyeliner Cost And Rating On Official Website
Introducing Drama Liqui-Pencil, a high-performance gel pencil liner that guarantees intense, vibrant color in a single stroke, lasting for a remarkable 24 hours. This innovative product combines the striking pigmentation of a liquid eyeliner with the user-friendly application of a pencil.
Its creamy texture allows for easy blending upon application, while once it sets, it remains steadfast, immune to smudging, flaking, fading, or transferring. With a spectrum of 8 universally flattering shades, including three captivating finishes—matte, metallic, and glitter—Drama Liqui-Pencil redefines eyeliner versatility and longevity.
Rating
Top Reviews
Experience the ultimate in eye makeup with our 24H Wear formula. Our product is designed to withstand the test of time, offering waterproof performance that stands up to any challenge. Say goodbye to smudging, flaking, fading, or transferring, as our formula has been meticulously crafted to maintain its integrity throughout the day. What's more, our product has undergone rigorous testing under ophthalmological control, ensuring both its quality and safety.
Whether you have sensitive eyes or wear contact lenses, rest assured that our formula is suitable for you. We prioritize your well-being, which is why our formula is free from fragrance, parabens, sulfates, and phthalates. Discover the difference in makeup that not only enhances your look but also cares for your comfort and confidence.
Lancome Eyeliners – Conclusion
In the world of eyeliners, Lancome has proven its prowess with a diverse range of options that cater to different preferences and occasions. From precise liquid eyeliners to versatile pencils and markers, Lancome's collection offers something for everyone. The high-quality formulas, innovative designs, and long-lasting performance make Lancome eyeliners a staple in any makeup kit. So, whether you're a makeup beginner or a seasoned pro, consider adding a Lancome eyeliner to your collection for effortlessly stunning eye looks that last all day.