The microblading procedure is not like a brow tattoo; rather, it is a semi-permanent makeup application. People also wonder how long does microblading take. If you have sparse brows or wish you had fuller, more natural-looking brows, microblading may be the solution for you.
How Long Does Microblading Take?
Microblading is a semi-permanent eyebrow tattooing technique used to create a fuller and more symmetrical look. It involves carefully inserting pigment under the skin with tiny, sterile needles that create hair-like strokes, providing natural-looking results. Microblading can typically last anywhere from one to three years depending on how it cares.
Most processes take between 1.5 to 2 hours of appointment time, followed by a touch-up session 4 to 8 weeks later. With proper care and regular touch-ups, microblading can provide an enjoyable long-term solution for those wanting gorgeously groomed eyebrows without having to put in the effort every day!
Microblading Healing Process
After microblading, the healing process typically takes about 4-6 weeks. During the first week, the eyebrows will appear darker and thicker than desired due to scabbing and excess pigment on the skin. Over the next few weeks, the scabs will fall off, and the color will fade to a more natural-looking shade.
To aid in the healing process, it's essential to avoid getting the eyebrows wet and picking at scabs. Additionally, it's recommended to avoid strenuous exercise and exposure to direct sunlight during the first week after microblading.
Treatment Process
Microblading is a treatment designed to give you full, lush eyebrows without requiring any effort on your end. It's a semi-permanent procedure performed with a handheld tool and consists of using small, microblade strokes that mimic your natural brow pattern to create a natural-looking shape and shade. The entire treatment process can typically be completed in 1-2 hours, with results lasting anywhere from 10-18 months depending on your lifestyle and skin type.
Before beginning treatment, the area will be cleaned and numbed with a topical anesthetic to ensure maximum comfort. The treated area may appear red or swollen in the days following the procedure due to slight irritation, but this should subside quickly. The microblading technician recommends receiving a touch-up session after 6 weeks to refine any areas needing more attention.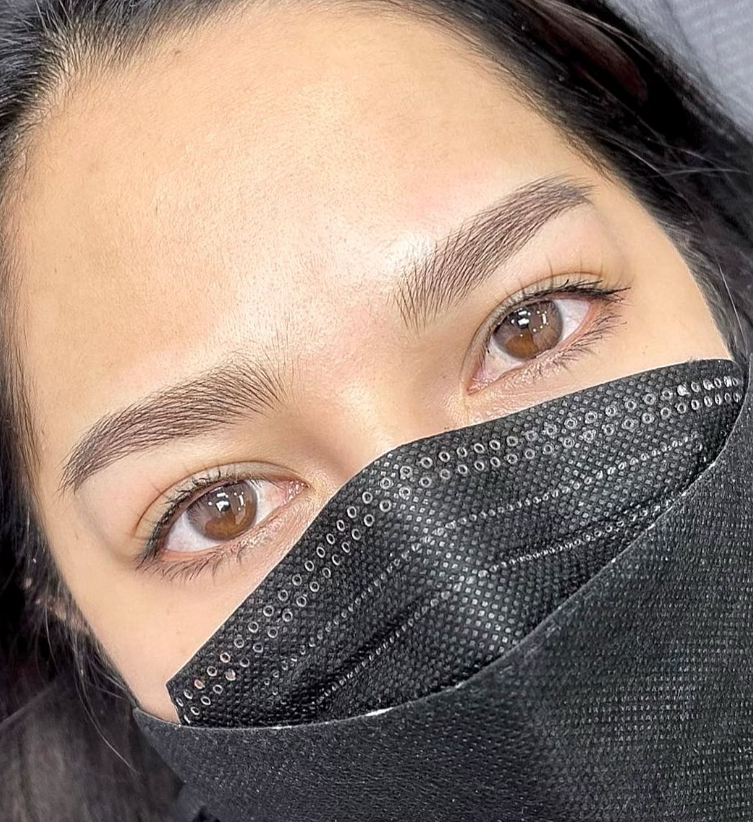 Is Microblading Safe?
The good news is that the answer is yes! Microblading is a semi-permanent eyebrow-shaping procedure that uses tiny needles to deposit pigment into the top layer of skin. This makes its results last anywhere from one to three years, depending on lifestyle and maintenance.
To ensure safety, it's best to go to a reputable, certified technician. Microblading professionals should use properly sanitized tools and high-quality pigments, as well as follow full sterility protocol and wear surgical gloves. Depending on individual skin type and care, the brows may be able to look fresh for the entire duration without needing any touchups. In general, professionals recommend doing annual color boosts to maintain optimal results.
How Long Do The Microblading Results Last?
Microblading is a popular beauty treatment that creates natural-looking, semi-permanent eyebrows with hair-like strokes. This semi-permanent makeup technique utilizes a hand-held blade-like tool and a water-resistant pigment to draw individual hairs manually.
The results of the procedure can last for up to 18 months, depending on skin type, lifestyle, and aftercare routine. How long will the microblading results last then? Generally, good quality microblading should last from 6 months up to two years or more. But yearly touchups are recommended to ensure the best solutions and keep brows looking fresh and full. In addition, one should also ensure to apply aftercare methods correctly as this can influence how long the results will last.
Microblading Recovery Process
Microblading is a semi-permanent makeup technique that uses tiny, handheld tools to embed colored pigment into the skin, resulting in fuller eyebrows. It looks incredibly natural due to the hair-like strokes used in this procedure. Although it is a minimally invasive process, there is still a recovery time associated with it. Properly following the care instructions afterward can lead to a quick subsiding of slight swelling and redness on the face over the next few days.
As for products, it is best to cleanse the area with some lukewarm water and a mild cleanser twice a day and avoid touching the brows directly or using any exfoliants on them. The technician recommends applying an anti-bacterial ointment over your brows for at least 5 days after microblading to reduce scabbing and itching. However, each person's unique recovery process will be different; so it's important to follow instructions tailored especially for you by your specialist during post-care consultations!
Post-Treatment Recovery
Microblading is a semi-permanent form of eyebrow enhancement that uses fine, specialized needles to draw individual hairs in the brow area. Post-treatment recovery involves avoiding activities such as showering, swimming, saunas, and steam rooms for at least one week. In addition, it is important not to pick or scratch the area after a session; instead, use high-quality emollients on the area. Avoid sports activities that may involve facial contact for two days following the procedure.
The application of ice can offer relief from any post-treatment discomfort and sensitivity. Keeping the microbladed area clean with gentle cleansers will aid in healing and help prevent infection. It usually takes four to six weeks for full recovery of the eyebrows following microblading treatment. To ensure the best results, you should follow the aftercare instructions provided.
Suitable Candidate
It is a semi-permanent technique for eyebrow hair simulation, favored by many because it can achieve a natural-looking result. Suitable candidates are those with light or sparse eyebrows due to genetic reasons, overplucking, or chemo/radiation treatments. It is also suitable for people who are looking to improve their eyebrow shape.
The microblading technician adds pigment along the eyebrow's shape using a tiny blade during the procedure to create micro strokes that simulate the look of real eyebrows. The results can last up to 12-18 months and require occasional maintenance depending on skin type and lifestyle habits. It offers a great solution for those who want to add fullness and definition to their brows without daily effort.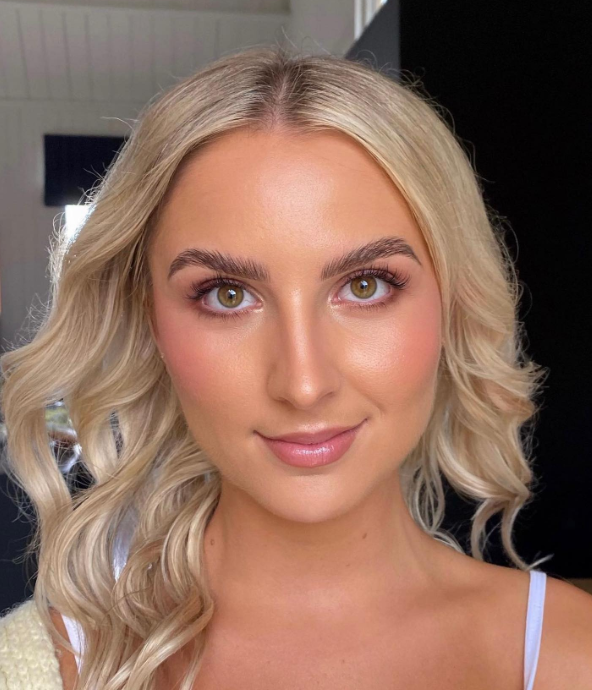 Microblading Touch Up
Microblading is a semi-permanent makeup procedure that creates an incredibly natural and realistic eyebrow look. It consists of using tiny needles to deposit pigments beneath the surface of your skin, providing a natural enhancement to your eyebrows that can last up to 18 months. Touch Up is a vital step in the procedure to ensure optimal results. Generally, it takes place around 6-8 weeks after the initial process.
Microblading Touch Ups act as a maintenance treatment, replenishing the lost color/shape of the initial application while allowing you to customize and tweak your look depending on your preferences and lifestyle. Overall, Microblading Touch Ups are an important part of your beauty routine when it comes to enhancing your brows with less effort!
Microblading Take – Main Takeaways
Microblading is a semi-permanent cosmetic procedure that has become increasingly popular over the past several years. It involves the use of a special tool to implant pigment into the skin in order to create thicker, fuller-looking eyebrows. The skill level of the artist, as well as the level of detail required for the microbladed brows, will determine the outcome of the microblading.
Generally speaking, it usually takes two hours for an entire session from start to finish. The technician dedicates the first hour to shaping and mapping out your desired eyebrow shape and colors. The technician devotes the second hour to implanting pigment into your skin. Aftercare instructions should also be provided at the end of the appointment in order for you to get maximum results. Depending on your personal situation, anywhere between one and two hours. But with great results that can last up to 24 months.
Learn More About:
FAQs
Some frequently asked questions about microblading are as.
1. Who Is A Good Candidate For Microblading?
Good candidates for microblading include individuals who have sparse or uneven eyebrows, individuals with hair loss due to medical conditions or treatments, or anyone who desires a more defined or fuller eyebrow look.
2. Is Microblading Safe?
Licensed and experienced professionals generally consider microblading to be safe when performing it. However, as with any cosmetic procedure, there is always a risk of infection or other complications.
3. How Do I Find A Qualified Microblading Technician?
When looking for a qualified technician, you should do your research and look for someone who is licensed, experienced, and has a portfolio of before-and-after photos. You can also ask for referrals from friends or family members who have had microblading done.
4. Can I Get Microblading If I Have Sensitive Skin?
Individuals with sensitive skin may be more prone to irritation or other complications from microblading. It is important to discuss any concerns you may have with your technician before the procedure.